Dear Colleagues,
It is our great pleasure to welcome you to The Virtual Congress on Lymphoma, Myeloma and Leukemia (VLML2021) which will take place 11-12 January 2021.
The meeting aims to give an educational overview and an update on recent data regarding the pathogenesis, diagnosis and treatment of chronic leukemia's, lymphomas and multiple myeloma.
VLML2021 will bring together international leaders in the field of Lymphoma, Myeloma and Leukemia to deliver talks that are idea-focused. The scientific program of the upcoming congress covers topics from all fields of clinical and laboratory aspects of chronic lymphocytic leukemia and lymphoma.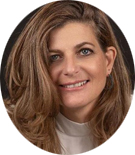 Prof. Tamar Tadmor
Bnai-Zion Medical Center
Israel
READ MORE
VIRTUAL CONGRESS
Unique Learning Experience for Medical Professionals
REGISTER NOW
Register Now &
Save up to € 100
SPONSORSHIP PROSPECTUS
View Sponsorship Opportunities
Contact Us
Please drop us a line with any questions or comments you may have.

We look forward to hearing from you.